Human & Mission Needs
Trinity supports many groups.
Saint Croix Central Backpack program
Collecting school supplies for Saint Croix Central School District
Food Shelf in Baldwin & Roberts
Grace Place in New Richmond, WI
Tornado Disaster Response
Hurricane Disaster Response
Moola for Milk
Trinity Free Pantry
Created by Trinity member Christine Pommerening for her Girl Scout Gold Award Project. Christine researched and felt there was a need for people to be able to have access to necessities (food, toiletries) in the Hammond Community. Christine wrote up a proposal to her local Girl Scout Council and was approved to create her dream. Christine worked with a group of youth and older adults from Trinity and the community to establish Trinity's Free Pantry. Trinity's Free Pantry ended up being a second location in the community of Hammond. Our own Hammond Library also felt there was a need for people to have access to food and toiletries and they also created a Free Little Pantry which is housed outside as well as they have a location inside. Christine reached out to the Hammond Library and created a co-pantry partnership with them. Christine also put together a brochure with area food resources to help those who might be struggling with finding help.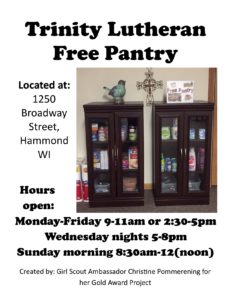 The Link to here Food Resource brochure can be found here: Hammond Area Food Resource