2013 Mission trip to Robin's Nest in Jamaica
Date is December 30, 2013 to January 7th, 2014.
The Jamaica Mission team is left for Robin's Nest on Monday, December 30th.
They'll work with the kids at the orphanage and on building and maintenance projects. Please keep Robin's Nest and our Mission team in your prayers as they put their faith into action, doing God's work with their hands.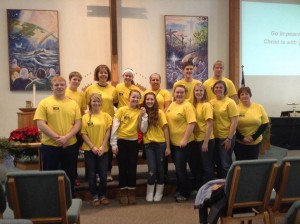 Here is an update from the youth Mission team:
January 1st, 2014
Hello from the Jamaica Mission Team!!  I figured I better post some info instead of just pics. Lots to tell but here's the short version……2 days of hard work put in already…..we have cleaned the preschool and lunch room on sight….(issues with the roof so it was pretty dirty) taking turns washing dishes, the boys dug holes,(through concrete) repairing a fence, moving rock and repairing some… fencing. We are doing all this and more while they are short of water here and showers have not been an option quite yet. Hopefully tonight for some. Not one complaint for anyone here. We are so grateful for this experience and are soaking it all in!  The kids at Robins Nest are off on break right not so we are getting lots of time with them!  28 total are here. Thanks again for all the continued prayers for us as we continue to do God's Work with Our Hands!  Love to you all!
Thank you for all the ways you helped make this mission trip for them possible!!